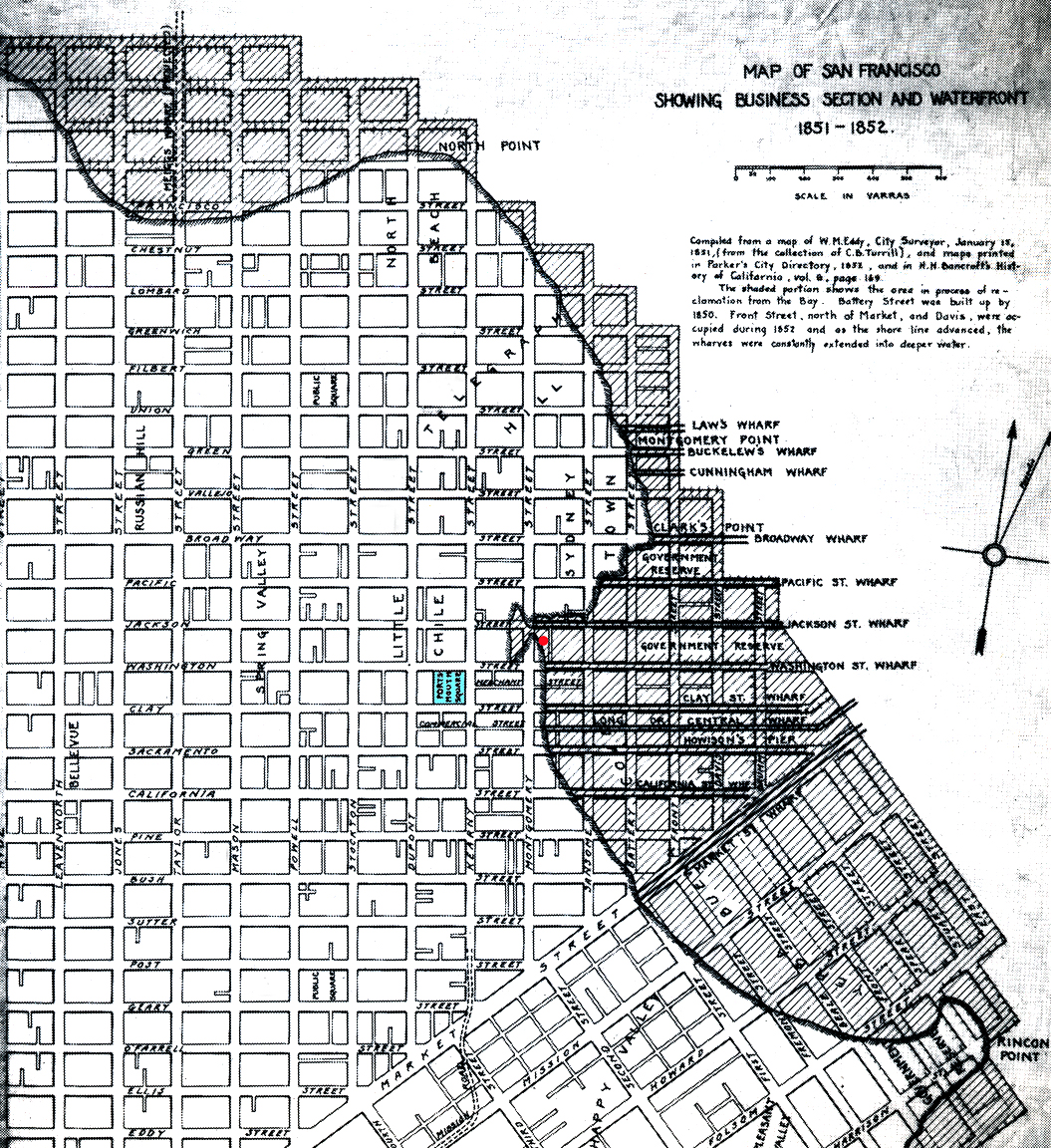 This map from 1851-1852 shows the original shoreline of Yerba Buena Cove. The waters of San Francisco Bay once came all the up to what is now Montgomery Street, site of the Transamerica Pyramid. The red dot points to where the Belli Building once stood. The front of the building touched the shoreline, but most of this two story structure, when it was first constructed in 1851, was built on bay mud and landfill out in the water. The blue on the map marks Portsmouth Square; now days, the little park in Chinatown. But in the Spanish/Mexican days of the early 1800's, only one adobe dwelling stood for years at the site, a mere stone's throw away from the stinking muddy shore of Yerba Buena Cove and the bay. Just prior to the beginning of the Gold Rush in January of 1848, the area surrounding the square had very slowly over the years grown to become an outback village of about 200 inhabitants. But with the discovery of gold up north at Sutter's Mill, and subsequently, the unprecedented global migration of humanity that poured into California with the hopes of getting rich quickly; in a wink, the same area exploded into a rough-tumbled tent/shack city of 32,000 by the end of 1849.


Virtual Museum of SF: From the 1820's to the Gold Rush

SF History: Yerba Buena Walk

San Francisco Archaeology

© 2006 Ron Henggeler. All rights reserved
The images on this website are not in the public domain. They are the sole property of the artist and may not be reproduced on the Internet, sold, altered, enhanced, modified by artificial, digital or computer imaging or in any other form without the express written permission of the artist.
To report problems with this page or site, offer feedback, or get help with the site, please contact the Webmaster.