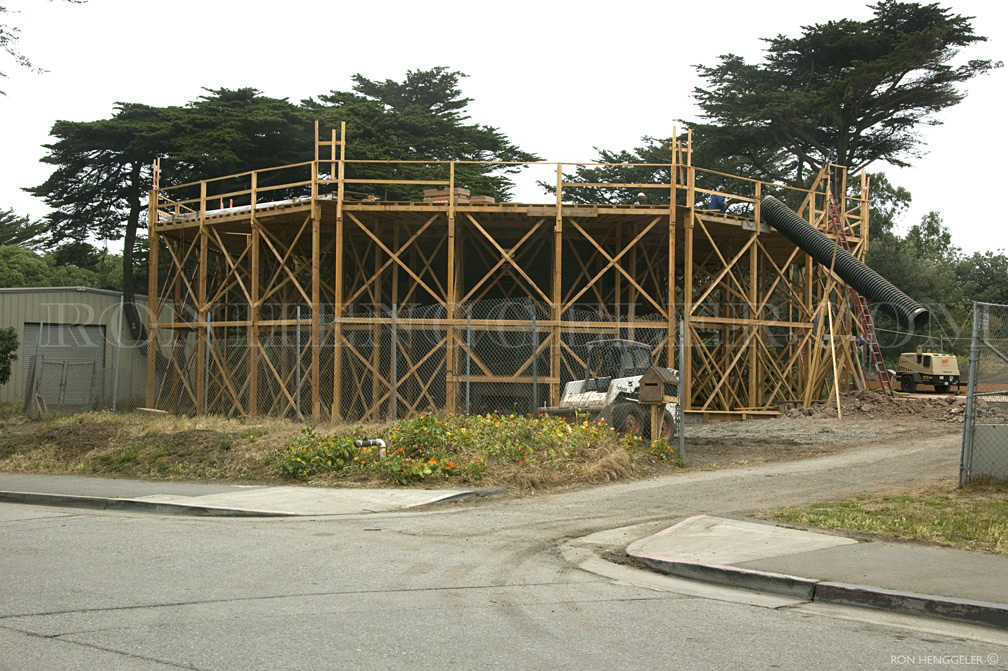 Wednesday May 21, 2008
Late last Monday afternoon, coming back from Home Depot near Westlake Joe's, I turned off the Great Highway and into Golden Gate Park for the last leg of my journey home. Immediately after entering the park I was met with the shocking sight of what had once been Murphy's Windmill. The windmill is gone, and in its place stands a jumble of wood scaffolding. I stopped to photograph the sight, and shortly after, a single man inside the work area invited me to come in. As it turned out, this man, Shawn Connelly, is the chief engineer working on the project to restore the windmill. He invited me up a 25 ft. tall ladder to the top where all the hard work is going on right now.

He and his crew are preparing the top of the old foundation for the the new structure that will be built shortly. I spent over an hour with Shawn photographing the work site and I'm going to begin documenting the progress over the next months and years. He gave me bolts and hardware from the old windmill to put into my jars. I took stone from the old foundation that will become seven or eight new headdresses for the jars. Later, I loaded some heavy brackets into the van, and he's setting aside some of the old 1905 tie-rods for me that will go into my tower in the front yard. Shawn sent me home that day with a beautiful original slate shingle from the old windmill. When the restoration is complete, the windmill will be fully operational again, pumping tens of thousands of gallons of water into Golden Gate Park. There will also be a museum and visitors center in the cottage next to the windmill.


© 2008 Ronald D. Henggeler. All rights reserved
The image is not in the public domain. It is the sole property of the artist and may not be reproduced on the internet, sold, altered, enhanced, modified by artificial, digital or computer imaging or in any other form without the express written permission of the artist.