June 13, 2007
Towering monarchs and towers aglow . . .
THE REDWOODS
Here, sown by the Creator's hand,
In serried ranks, the Redwoods stand;
No other clime is honored so,
No other lands their glory know.
The greatest of Earth's living forms,
Tall conquerors that laugh at storms;
Their challenge still unanswered rings,
Through fifty centuries of kings.
The nations that with them were young,
Rich empires, with their forts far-flung,
Lie buried now-their splendor gone;
But these proud monarchs still live on. . .
To be like these, straight, true and fine,
To make our world, like theirs, a shrine:
Sink down, Oh traveler, on your knees.
God stands before you in these trees.
-Joseph B. Strauss,
Builder of the Golden Gate Bridge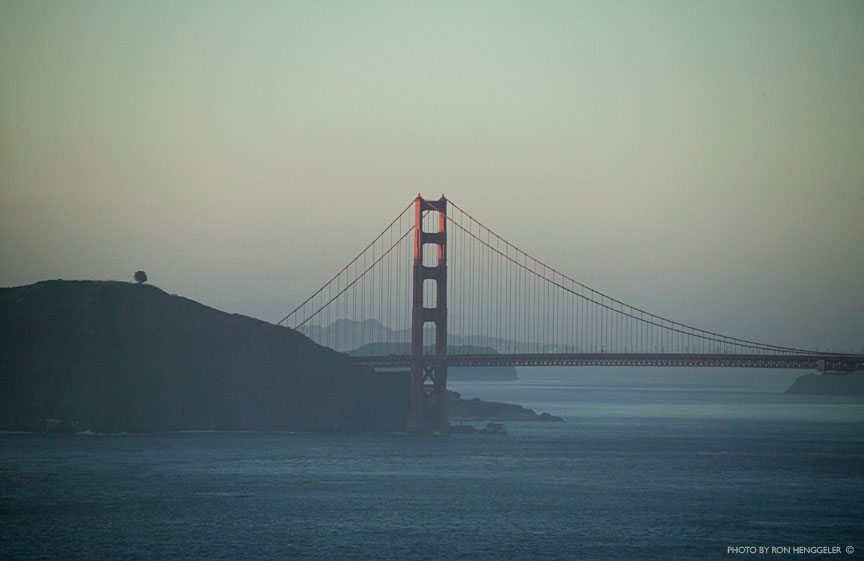 The last fleeting moment of the day's light is aglow on top the north tower. The photo was taken on the trail below Fort Miley, between Point Lobos and Lands End.
© 2015 All rights reserved
The images are not in the public domain. They are the sole property of the artist and may not be reproduced on the Internet, sold, altered, enhanced, modified by artificial, digital or computer imaging or in any other form without the express written permission of the artist. Non-watermarked copies of photographs on this site can be purchased by contacting Ron.