February 8, 2007
Discovery of the Candace in boom-town San Francisco
Last week I sent out an email titled Boom-town Frisco. The photograph with that email was of the new high-rise building that is now going up south of Market near Folsom and Spear Streets. In September of 2005, I was at that very same location photographing the well preserved hull of a Gold Rush era ship that had been uncovered when ground was first broken for this building that is now nearing completion. The bones of the old ship had been discovered 20 feet below street level. The ship was about 125 feet long, built of thick wooden timbers, and had a rudder about 6 feet high. Several months after its discovery, maritime archaeologists had positively identified the remains as the three-masted bark Candace, a 188-year-old whaling ship out of the era made famous by Herman Melville's classic novel "Moby-Dick." Built in Boston in 1818, she had a long career in the sea trades and later in hunting sperm whales in the South Atlantic, the Pacific and the Indian oceans. The Candace made the Golden Gate on July 4, 1855. It never sailed again. Its discovery is considered significant enough that the nearly intact hull of the old ship will become the centerpiece of the San Francisco History Museum when it opens in 2008 at the Old Mint in downtown San Francisco. When I was photographing the hull at the site in 2005, I found a black knee-high leather boot in a mountain of mud that was being loaded and hauled away. I rescued it from being lost and forgotten like the other truck loads of 'fill' that were going off-site that day. These days, work crews are breaking ground all over South of the Slot. What other treasures are now waiting to see the blinding bright light of day?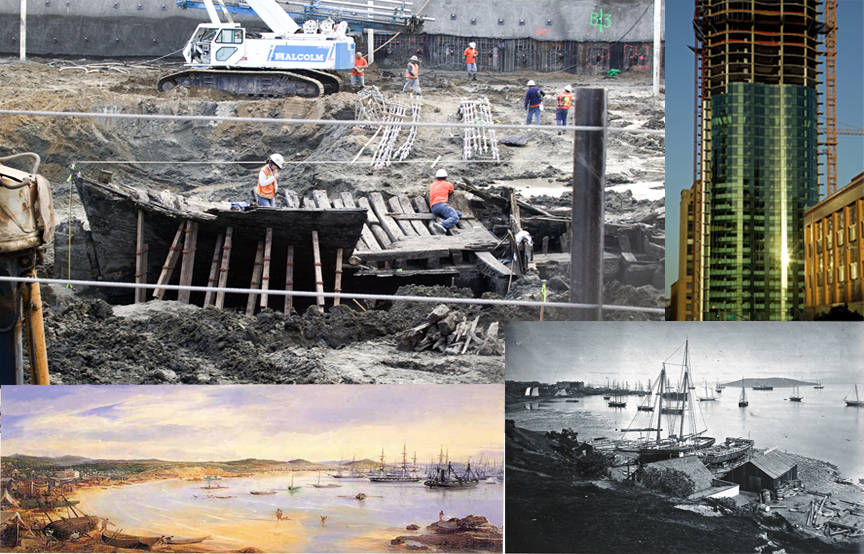 © 2015 All rights reserved
The images are not in the public domain. They are the sole property of the artist and may not be reproduced on the Internet, sold, altered, enhanced, modified by artificial, digital or computer imaging or in any other form without the express written permission of the artist. Non-watermarked copies of photographs on this site can be purchased by contacting Ron.