February 20, 2007
Lands End and the Golden Gate
The Golden Gate Bridge as seen from the beach at Lands End. The Labyrinth
is atop the cliff on the right of this photo. Because of it's shape in
relation to the coastline, this rock strewn cove and beachhead is a magnet
for driftwood of all sorts and sizes. Everything seems to end up here...from
small branches to entire uprooted trees, even piling from old broken up
wharves and piers. Beachcombers and visitors to this cove at Lands End use
the wood to build windbreaks, sculptures...and bonfires. Years ago, an
annual ritual involving a small group of artists and their friends, would
gather up the bounty of wood in this cove, and create a wooden figure which
they would burn. This little nameless cove is where Burning Man (now
attended by tens of thousands in the desert) first began.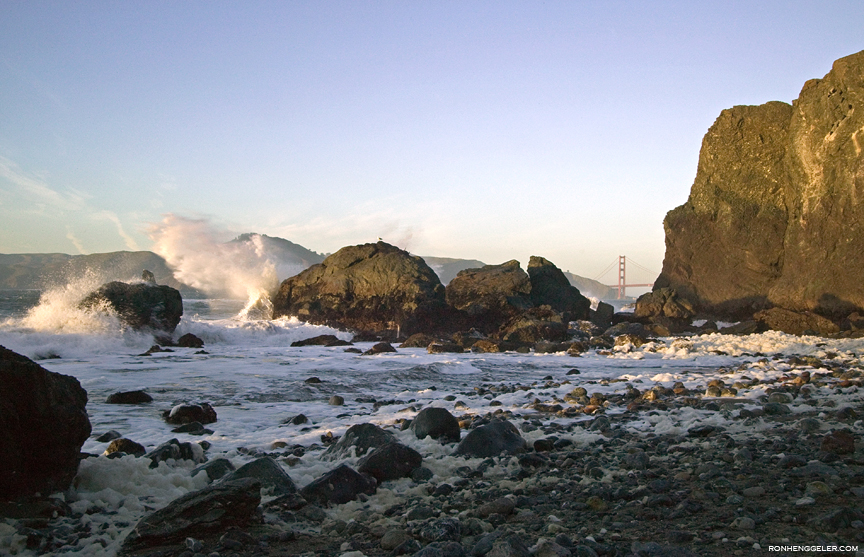 © 2015 All rights reserved
The images are not in the public domain. They are the sole property of the artist and may not be reproduced on the Internet, sold, altered, enhanced, modified by artificial, digital or computer imaging or in any other form without the express written permission of the artist. Non-watermarked copies of photographs on this site can be purchased by contacting Ron.