January 13, 2007
'Never In Fear'
My dear friend Merle has recently published her memoirs.
The title of the book is
"Never In Fear-The Memoirs of Merle Green Robertson"
Merle lives on Nob Hill just a block away from the BIG 4 Restaurant.
She is a regular, and much loved customer of ours.

Merle has been called the "Indiana Jane" of Mayan studies. Her life has been spent studying, and preserving the culture of the ancient Maya. Merle is an accomplished artist. Her beautiful (and many times, enormous) rubbings of Mayan sculpture and ancient hieroglyphics, are world renowned. San Francisco's De Young Museum in Golden Gate Park has one of Merle's rubbings on permanent display.

I am honored that Merle included in her memoirs, a portrait photo that I made of her, and also one of my Nob Hill photos that I shot from the crow's nest, high atop the Mark Hopkins Hotel.

To view pages from her memoirs, to order the book, and to find out more about this remarkable woman, visit this site.
http://www.precolumbia.org/pari/index.html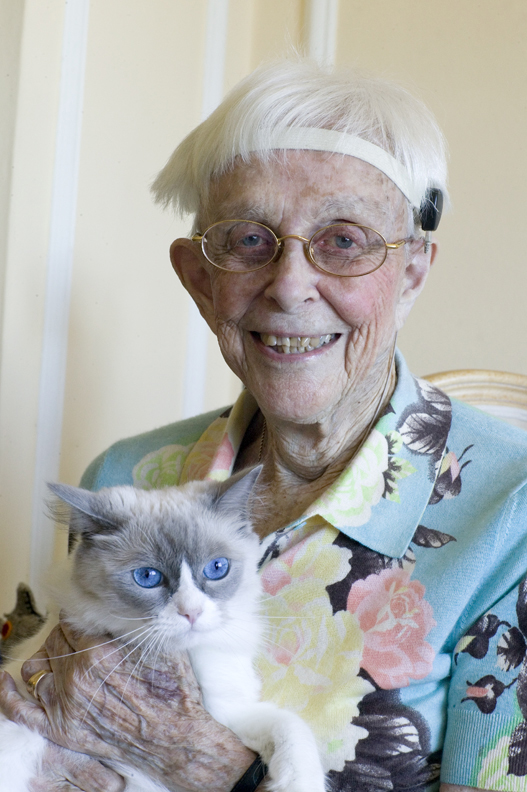 Merle Green Robertson and Vicki the cat
© 2015 All rights reserved
The images are not in the public domain. They are the sole property of the artist and may not be reproduced on the Internet, sold, altered, enhanced, modified by artificial, digital or computer imaging or in any other form without the express written permission of the artist. Non-watermarked copies of photographs on this site can be purchased by contacting Ron.